How I Fell in Love with PhotoShelter in 30 Days.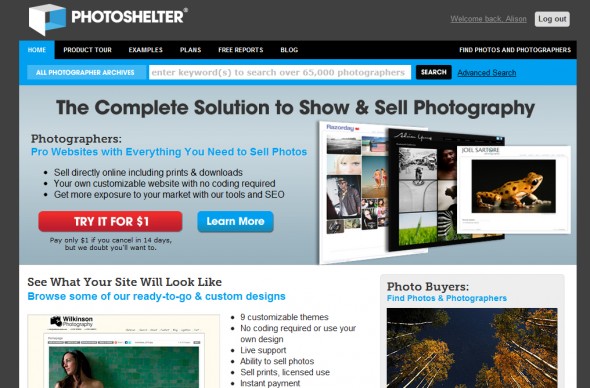 The stock photography industry has had many significant changes over the past few years. These changes have necessitated modifications to my stock photo business, as well as the ACM Photography website. The most recent modification has been integrating ACMPhotography.com with PhotoShelter and, after 30 days, I am in love.
Back in the day, being a stock photographer meant sending thousands of slides to image agencies who would then sell your work on to buyers, hopefully resulting in big payouts. Digital cameras and microstock agencies revolutionised the stock industry, flooding the market with low cost images. The debate over microstock rages on, years later, but stock photographers across the board have had to rethink how they market their photos.
These days, a stock photographer's best friend is SEO (search engine optimisation) and a website that gets lots of love from Google. With more and more image buyers searching the web for the photos they need, excellent keyword ranking is vital.
For the past year or so, I've been moving away from stock agencies, as I watch the photographer's cut of image sales revenue decrease more and more. I decided instead to focus on direct sales of stock image downloads and fine art prints from my website.
Enter PhotoShelter – an online image management and e-commerce tool for professional photographers.
I've been aware of PhotoShelter for several years. They have released a few excellent free reports on SEO and Social Media for photographers and I've been following their blog for a while.  Over the Christmas holidays, PhotoShelter offered a free 30 day trial of their service and I decided to give it a try.
PhotoShelter claims to focus on SEO and includes many tools to maximize your search engine mojo. In 30 days I can honestly say, it works. Despite competing in two very competitive segments of the stock photo industry – travel and garden stock photography, I've seen my website bumped to the top of the heap for the keywords I've chosen to optimize. I've shot to page 3 of Google for my travel stock images and page 1 for my garden stock photos. That alone is worth its weight in gold.
But PhotoShelter also integrates well with my social media campaigns. I can automatically post my new galleries to my Facebook Fan page and create embeddable slide shows I can use to promote my work on other websites with a couple of clicks.
PhotoShelter's keywording tools are great too. This turns my least favourite, but most important, stock photography task into something relatively painless and easy.
Within my PhotoShelter archive, I can assign one image to any number of galleries I wish, with one click. I can group those galleries into collections and create private galleries for clients.
I can also use as many or as few of PhotoShelter's endless options as I like. Photographers can build an entire photography website straight from PhotoShelter or integrate it into a pre-existing website, as I have. In fact, you may not even have noticed that the new Photo Galleries section of ACMPhotography.com is driven entirely by PhotoShelter.
PhotoShelter also takes care of e e-commerce so I can now offer direct sales of downloads and prints directly through ACMPhotography.com, which means no more steep commissions to stock photo agencies.
If I sound a bit like an advertisement for PhotoShelter, I assure you they aren't paying me to write this glowing review (although if they wanted to I wouldn't be opposed!) I'm simply impressed by the results I've seen in my own SEO rankings in just 30 days. It's, of course, too early to tell if these increased rankings will turn into sales, but I'm optimistic.
If you are a photographer who: is sick of the high commissions of stock photo agencies, wants to offer e-commerce through your own website, is in the market for a new website, or just wants to strengthen the SEO rankings of your current one, I strongly urge you to check out PhotoShelter and give them 30 days to win you over.