Lessons from my First Art Fair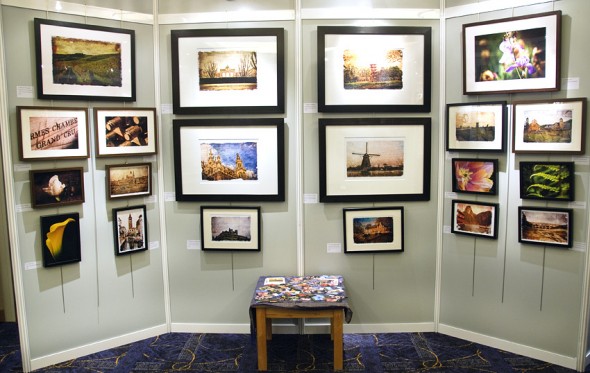 After a whirlwind weekend of meeting people, answering questions and selling my work, things are finally starting to settle down after the Brussels Accessible Art Fair. Overall, my experience selling at my first art fair was very positive, but I did learn a few lessons for my next event.
For me, the most positive aspect of the event was a genuine interest and curiosity in my Forgotten Postcards series. The most frequent questions were "What are these?" and "What is your technique?" Some people thought my digital collages were paintings, others thought I had actually scanned and printed old postcards. Most were very interested when I explained the process. Next time however, I think I will take along a small version of the original photo so people can see the before and after.
My biggest struggles in getting ready for BAAF were pricing and sizing. If I priced too low, I wouldn't recover my expenses; too high and no one would buy. There were several other photographers at BAAF, all of whom had beautiful work. A few of them used much more expensive printing and mounting techniques and although the effect was beautiful, they had fewer sales.
It's a difficult balance – I don't want to undersell or devalue my work by putting too low a price on it, but I do genuinely want people to be able to buy and enjoy it. I tried to keep my expenses as low as possible by printing and framing myself. I also think the key was to have a variety of sizes and prices to suit each budget.
This brings me to sizing… This particular art fair is primarily frequented by expats in Belgium. Many of these people are moving every three to five years. Portability is a definite consideration. Many people admired my largest pieces but purchased smaller pieces simply because they were easier to move.
The other hurdle I had to overcome is simply prejudice against my medium. First of all, there is the difficulty of selling photography as art. There are people who will always believe if you have an expensive camera, all you have to do is push the shutter button to make a great image. Add to that prejudice words like "digital" and "Photoshop" and you have a very hard sell.
I tried to educate people by comparing my work to a traditional collage and explaining my process as much as possible. But, at the end of the day, art is a very subjective thing and I just had to accept that not everyone is going to like what I do.
Would I do it all again? Absolutely! Did I make heaps of money? No, of course not, but I didn't lose any either. I got to interact with artists in many different fields and be inspired by their work. I met lots of art lovers, many of whom were interested enough in my work to ask questions and take my business card. I look forward to seeing the long term results of this exposure.