Ageing a Photo with Texture – Photo Help Desk #2
I chose today's photo help desk picture because it was something a bit different. Instead of asking me to fix something, the photographer asked me to distress it.
I love the look of this old tricycle, and I'm wondering what techniques you would use to give the photo an "antique" feeling. – A.B.
Here is the original photo.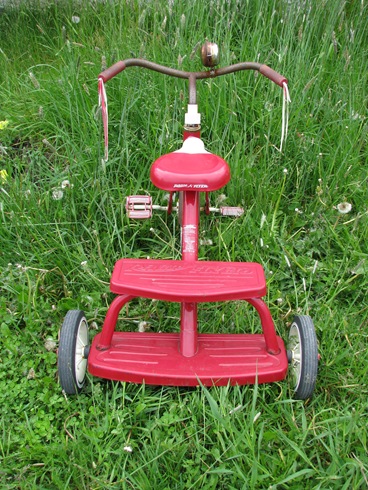 The first thing I want to do is convert it to a black and white image by adding a black and white adjustment layer. See my Black and White conversion tutorial if you need help with this step.
I want the image to have more contrast and a bit of a sepia tone, for an aged look, so I'll add a Hue/Saturation adjustment layer with the blend mode set to Soft Light. I'll check the colorize box and give it a warm brown tint.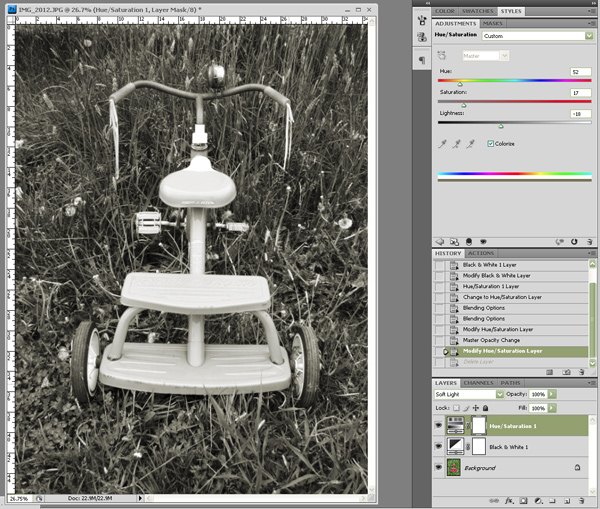 Now is where the truly random and fun part comes in. We're going to add several different texture layers to distress the heck out of this photo.
I LOVE textures. I have a folder on my hard drive full of hundreds of different images that I can use. The great thing is, ANYTHING can be a texture. Some great examples are paper, wood, rust, concrete, metal, stone, leaves, fabric… The possibilities are endless. You can take and save photos for this purpose yourself, or you can download then from resources on-line like Stock.xchng.
Generally what I do at this stage is browse through my texture folder and pick out four or five that I think may be interesting. This step is ALL about experimenting and trying different combinations. Sometimes they work and sometimes they don't. That's what experimenting and creating art is all about!
I decided to start with a crumpled paper texture.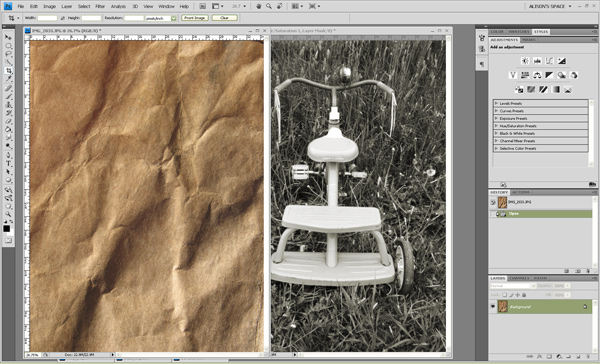 I'm just going to drag this image onto my trike photo and it will automatically be on a new layer. Now you simply have to experiment with the blend modes until you find one that you like. I often lower the opacity as well, if I like an effect but don't want it to be so strong. For now I'm going to use the Overlay mode, because I like how it livens up the sepia tone, but at any time I can go back and change it or lower the opacity.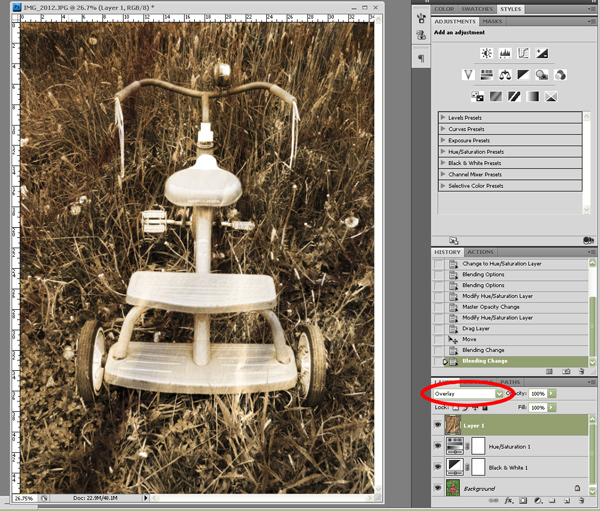 My second texture is a bit more subtle but I liked the lines on the paper. I'm going to drag this onto my photo and it will be on it's own layer as well.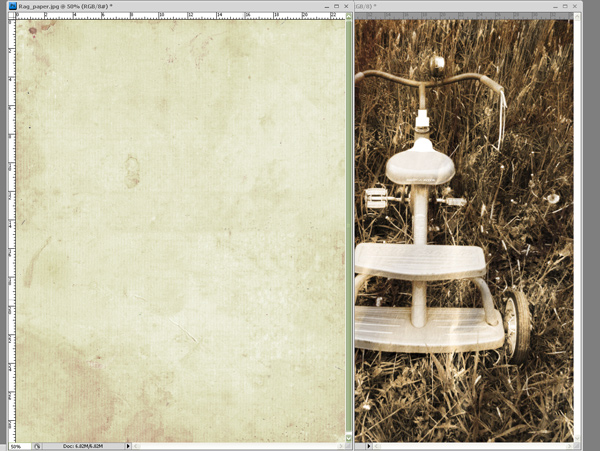 I'm going to set the blend mode on this layer to Multiply so I can see those lines coming through on the light areas of the trike.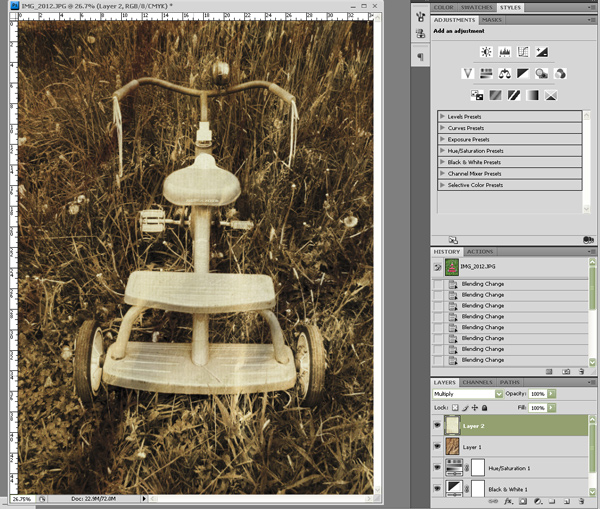 My final texture is a random spray of colours that looks a bit like painted concrete. I'm going to drag this one onto my photo, as well.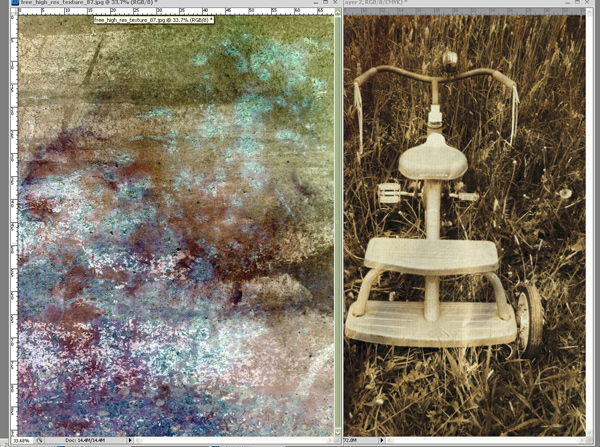 I set this blend mode to Overlay. At this point I'm going to change my layer order around a bit to see what gives me the best effect. I can as tweak any layer opacities or blend modes until I'm totally happy. At this point it's really starting to look like an old photo.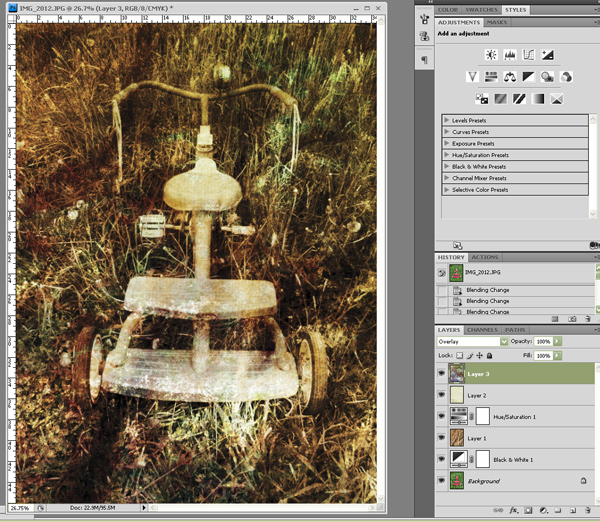 We could stop at this point, but to really enhance the feeling of an antique photo, I'm going to add a border. You can make borders yourself (and if you ask me nicely this could be a future tutorial) but I have another handy folder full of borders that I use. You can find free photo borders to download on-line, if you do a bit of searching on places like DeviantArt.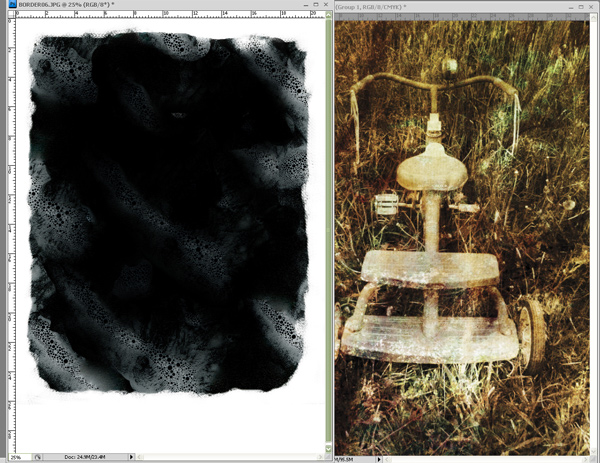 In order for this to work properly I have to do one of two things: I can either flatten my trike image first (although this won't allow me to go back and change things later) OR (better option) I can put all of my layers in a group by clicking the folder icon on the layers palette. I can then drag my layers into the folder (remember to double click on your background layer to unlock it).
I then drag my border onto the trike photo. I want the border above the group folder with the opacity set to Screen.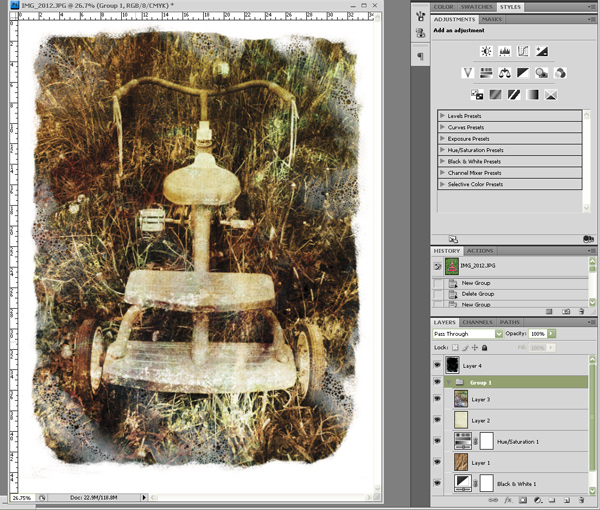 Now our plain little trike photo looks like an antique tin-type… with a twist 🙂