Palau Nacional, Barcelona, Spain | Forgotten Postcard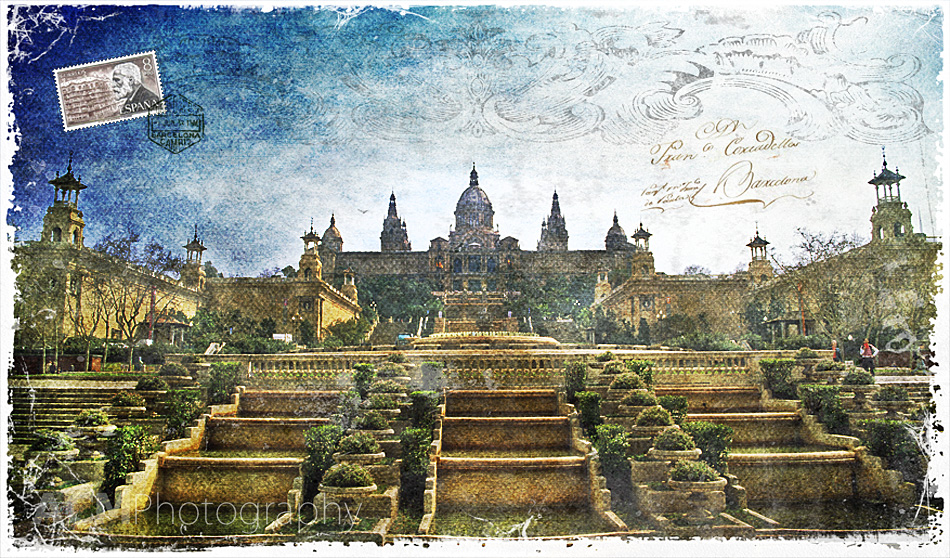 I've been itching to create a Forgotten Postcard digital art collage of Barcelona, Spain for quite some time now. Barcelona is one of my favourite cities in the world and I am in love with the colour and audacity of the architecture there. But it was that same over-the-top architecture that held me back. How could I add even more texture and colour to the work of Antoni Gaudi?
So instead, I chose The Palau Nacional, which houses the  National Art Museum of Catalonia (Catalan: Museu Nacional d'Art de Catalunya). This stately building sits perched on the Montjuïc hill and towers over the Avinguda de la Reina Maria Cristina. I've paid my own homage to Gaudi with the inclusion of his commemorate stamp, and finished the art work with some scanned handwriting and a decorative flourish.
Do you know of a spectacular building that deserves the Forgotten Postcard treatment? I'm always open to suggestions for new work. You can also commission an original art work or purchase prints from the gallery.